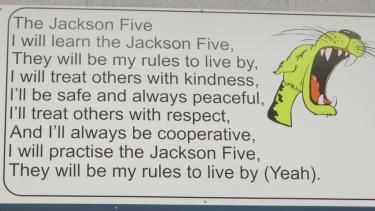 Our School
Home of the Jaguars
Students, parents, teachers and support staff are all important members of Jackson Elementary School. It is important that we work together positively, to make our students and school the best they can be.
Our primary goal is to promote student learning and encourage a love for lifelong improvement. The purpose of this website is to summarize key district policies and provide  clarification of school expectations.
The school acknowledges that each situation is a teachable moment and some expectations will be adapted to the situation. These guidelines will change and evolve over time as we see the need.
Please contact us whenever you have suggestions, concerns, or positives to share.                                                       The office phone number is 604-859-5826.
We need to know about problems to attempt to solve them together and we also need to know about our successes to keep moving in appropriate directions.