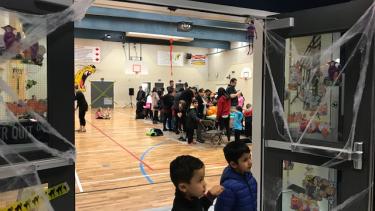 We encourage all parents to take an active role in their child's education. In this section of our website, you will find information on our school's PAC (Parent Advisory Council), Study Tips to help you and your child, and information on School Supplies 
Parking Lot Safety
Parking lots are always a challenge at schools. What is most important to us is the safety of all our students. We ask that you please follow the markings and signage in the parking lot to help ensure that it is a safe environment.
Please do not back into parking spaces. While this might make exiting the parking lot easier, it creates a lot of congestion when you are parking
Please do not drop off or pick up students in the drive through lane. Students should only be entering and exiting cars in the lane closest to the school.
Please do not enter the parking lot at the back of the school – this area is for staff parking and is not a drop off zone.
If you are parking along King Road, please help teach your children how to cross the road safely. Although the area in front of the school is a designated 'school zone', not all drivers take the care that they should.